I know that it's pretty much the universal belief that cute workout clothes make your workout x1263728785 better. I also know that it's a struggle to find stylish AND comfy workout clothes that make you feel like a boss, yet don't cost a small fortune. But, you can rejoice, I've hit the jackpot and have found some amazing workout clothes for us that are ultra affordable!
Chin Up Drop And Give Me Zen Tank (they no longer carry this tank exact tank, but they still have many similar styles), City Streets Performance Crop Leggings in Pink Space Dye, Pink Fila Running Sports Bra, Pink Adidas Flip Flops, Karma Necklace
To be quite honest, I've always been a little skeptical of JC Penney and resistant to shopping there. I guess it just seemed like such a basic store and I've always felt overwhelmed by the big department stores in the mall.
But, when my mom and I were looking for jeans for my brother, we stumbled upon a cute top, prompting up to explore the rest of the rack, and eventually the whole section. My mom literally had to drag me away to go check out since the mall was about to close.
In addition to this workout outfit, I also bought a few more tanks. They were all on sale and I couldn't believe the deal! I'd highly recommend you check out JC Penney online since they have even more on sale there too. I'm definitely thinking of picking up more tanks, leggings, and other tops (not just for working out) since they have a bunch with adorable sayings like "No Makeup, Messy Hair, Just Chillin" and "Don't Go Bacon My Heart" which will be perfect for the lazy Monday outfits that come with the school year.
Other tanks I bought…
This shirt was just too me not to get!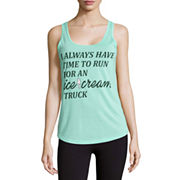 Dessert is always a good thing to run for 😉 .
*I also got one that is neon yellow and says "Run, Eat, Sleep, Repeat" in blue, but it's not on JC Penney's site*
Workout clothes I'm crushin' on…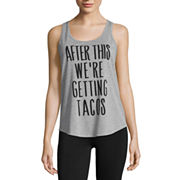 Haha, the real motivation to workout though 😉 .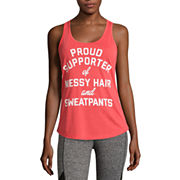 Does this not scream Monday to you???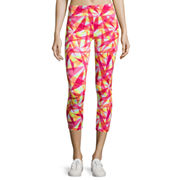 These kinda remind me of sherbet, but I love it.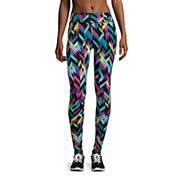 These have so much color going on, they'd match with any top!
Samantha and Alexis have me wanting workout pants like these so bad!
Let me know…
Do you really believe that cute workout clothes can improve your workout?
What's your fave place to get workout clothes?
What has been your go-to workout lately?
Enjoy the moment,
xoxo Meah <3